HBO and Movemint Bike Cab have now worked together for three SXSW festivals: 2013, 2014 and 2017. We've been honored to carry the Iron Throne fiberglass fixtures each time. This time, however, their request was even more literally awesome. They wanted 31 pedicabs. This makes it our second-largest campaign ever, and HBO now joins SkinnyPop Popcorn and Oregon Mt. Hood Territory as one of our most frequent advertisers (despite their two-year absence). The campaign lasted 3 days.
31 pedicabs. 10, as before, had the Iron Throne affixed to their carriages. Unlike the past, their pedicab drivers weren't for hire, but still compensated for their effort. One pedicab had solely Game of Thrones panel ads, 10 others had Veep panel ads, and 10 more had Silicon Valley panel ads. (Also unlike the past, their ads featured hashtags.) The size of their collective campaign made their brand ubiquitous downtown. Adding to that awe was that each driver was "branded" with specific campaign t-shirts.
[metaslider id=2036]
What's fun about the Iron Thrones is how eye-catching they are. Even people unaware of the Game of Thrones series want to sit in the pedicab, to be seen in the pedicab, and to ride in the pedicab. It's distinctive. There's a joy people express that's infectious. It's kinda like how their eyes light up when a giant tub of popcorn rolls their way, or French fries.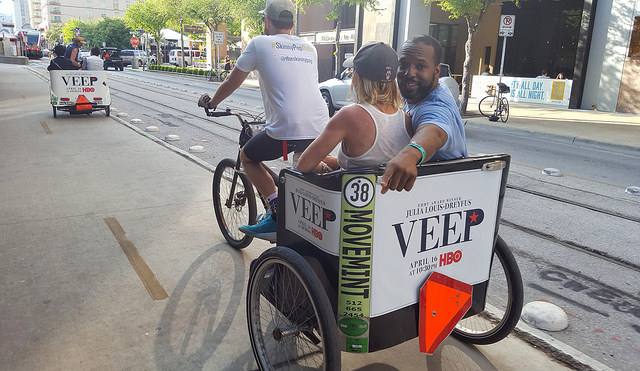 I'm glad you read this article! Hopefully you feel inspired.

Be sure to click on the links provided! They should help, too.
This post is a part of our "TV shows, music, & movies" portfolio.