Pedicabs are an incredible way to promote you message and have it be seen by thousands of people every day.  Movemint Bike Cab operates it pedicabs year round and every day in Downtown Austin.  Downtown Austin is a is a great market for advertisers to reach youthful customers who seek out adventure and excitement.  Our pedicabs portray a sense of fun, vitality and daring-do.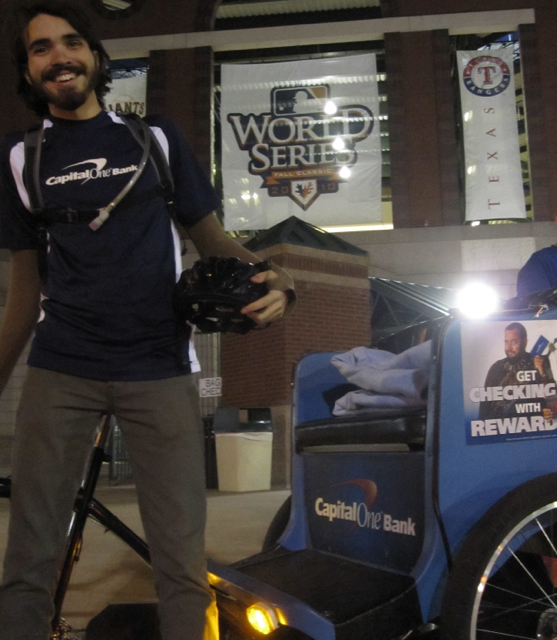 Contact us in the following ways:
Phone: 512-665-2454
email:Â  david@austinpedicab.org

Why Movemint Bike Cab is Different:
Movemint Bike Cab produces it's own advertising vinyl wraps.  Unlike many of our competitors, we have the technical expertise to operate and have made the heavy investment into large format printers that will produce the crispest images, most accurate color representation and most beautiful images.  Because we own the fleet of pedicabs, and printing equipment, we have the experience with our product to give the best results and the low overhead to give the best prices.

Movemint Bike Cab runs a trikes only fleet.  Pedicab trikes, unlike mountain bike pulled trailers are known to be the safest most stable human powered vehicles.  With three wheels and an upright driver, it is very difficult for one to "loose it's footing" while on the job.  By choosing to advertise on Movemint trikes you are assured that your image and message will get proper representation.

Movemint Bike Cab rents its cabs by the month to experienced and trained pedicab drivers.  By renting the bikes monthly, rather than daily, we may lose some short term profit, but we gain in more reliable, safer drivers that we have a long ongoing trouble-free relationship with.  Some of our drivers have been operating pedicabs with us for 5 years + .  Because of these extended relationships, we have a developed a solid reputation of having some of the best pedicab operators in Austin.

Movemint Bike Cab's pedicabs are well maintained by professional bike mechanics.  Our mechanics currently work in, or have in the past worked in many highly regarded Austin local bike shops.  They are highly skilled, have all the tools and a dedicated work area they need to keep our pedicabs in good working order.  Hydraulic disc brake systems, 21 to 24 speed drive trains, 48 spoke wheels, and passenger seat belts are important subsystems that help keep our vehicles safe. By maintaining those subsystems well, we are working to assure our passengers and advertisers the best possible experience.
During ACL and F1 pedicabs are seen everywhere.  We will transport festival goers from their hotels to the entry gates, and from the gates back downtown for a night full of festivities.  Because automobile traffic grinds to a standstill during most big events, and all other transportation systems are greatly slowed down, the humble, nimble, fleet moving pedicab quickly becomes the transportation solution of choice.  When all other mobile advertisements are stuck in traffic, and have stopped being effective, we keep on moving and and displaying our customer's messages to pedestrians, our passengers and every one  else that may become stuck in overloaded thoroughfares.
Below are a few thumbnail samples of advertising campaigns that we have done over the years.  Click to make bigger. More samples and information is available by request.





Contact us in the following ways for aditional information and rate quotes:
Phone: 512-665-2454
email:Â  email: david@austinpedicab.org