Movemint Bike Cab is co-owned by David Knipp, a carpenter and educator, and Ken Cameron, a machinist and maker.  Throughout our 7-year history together, we have used our talents and various skills to try to make our pedicabs, and our company, the best they can be.
Company ethic:
At Movemint we try to promote a sense of fairness.  We believe our riders are professional concierges to your evening's entertainment.  We try to to treat our riders with fairness and respect.  We charge them a very reasonable monthly lease.  We hope and expect in return that our riders will treat their passengers with respect, get them to their destinations safely, and charge them a reasonable fare for the services they have provided.
Printing:
Movemint manufactures all of its own pedicab ads using our own in-house large-format printer.  We are able to control all aspects of the pedicab ad production, from the paper and ink that the printer prints onto and with, to assurance of accurate color representation, to how the ad is installed.  All of our ads are come from our own eight-color printer and are laminated with a clear protective film to protect and provide them with the longest life and best appearance in the sometimes rough-and-tumble pedicab environment.
Machine shop:
Movemint maintains its own full machine and welding shop.  This facility gives us something unique in the pedicab world: the ability to quickly make almost any advertising campaign a reality.  We are also currently developing a new breed of pedicab that we believe will have many benefits, including reduced weight, improved operator comfort, improved reliability and durability, and increased operator revenues.
Our bikes: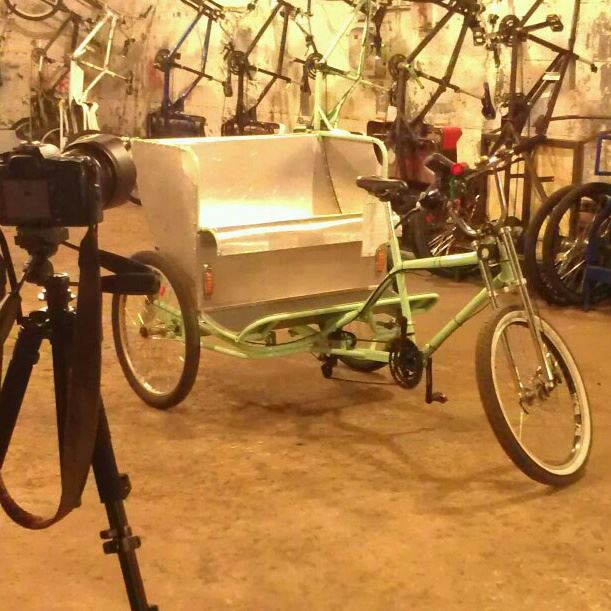 We know pedicabs.  We have ourselves, built from the ground up, the vast majority of the pedicabs in our fleet.  When we are not making frames from scratch, we start by stripping the frames down to bare metal, upgrading and modernizing their fittings, then powder coating them in our company colors.  We equip our bikes with front and rear disc brakes, front and rear 12 volt automotive style rechargeable lighting systems, passenger seat belts, custom upholstery, foul weather canopies, and in many cases, pretty sparkly fiberglass carriages.  This process is slower, but gives us a relationship with our bikes like no other pedicab company has.
Unlike many of our competitors, we choose to work with bikes that were originally made in America, with large diameter, low rolling resistance wheels and tires – not Chinese made imitations with small wheels, and slow rolling motorcycle tires.  We keep our pedicabs looking good by replacing worn out fiberglass carriages.
Because the company owners have been both professional bicycle mechanics and full-time pedicab drivers, we know what a difference it makes in the working lives of our drivers to have equipment that functions properly.  Out of respect for our riders, and pride in our company, we work to keep all of our pedicabs operating as best as we can.  This, in turn, provides a more comfortable, carefree, and safer experience for our passengers.