RTX is an annual convention put on by Rooster Teeth, an online entertainment company that was founded in Austin in 2003 and now has a worldwide presence. RTX is basically a celebration and affirmation of nerd culture; it's pretty fun.
This RTX, we were tasked with something immensely delightful: make customized fixtures that look like the horse-drawn carriages featured in the trailer for Netflix's new show, Disenchantment. So, uh, we did. We built 10 of these stylish carriages. I want to emphasize that, from concept to creation, we built all 10 in less than 30 days.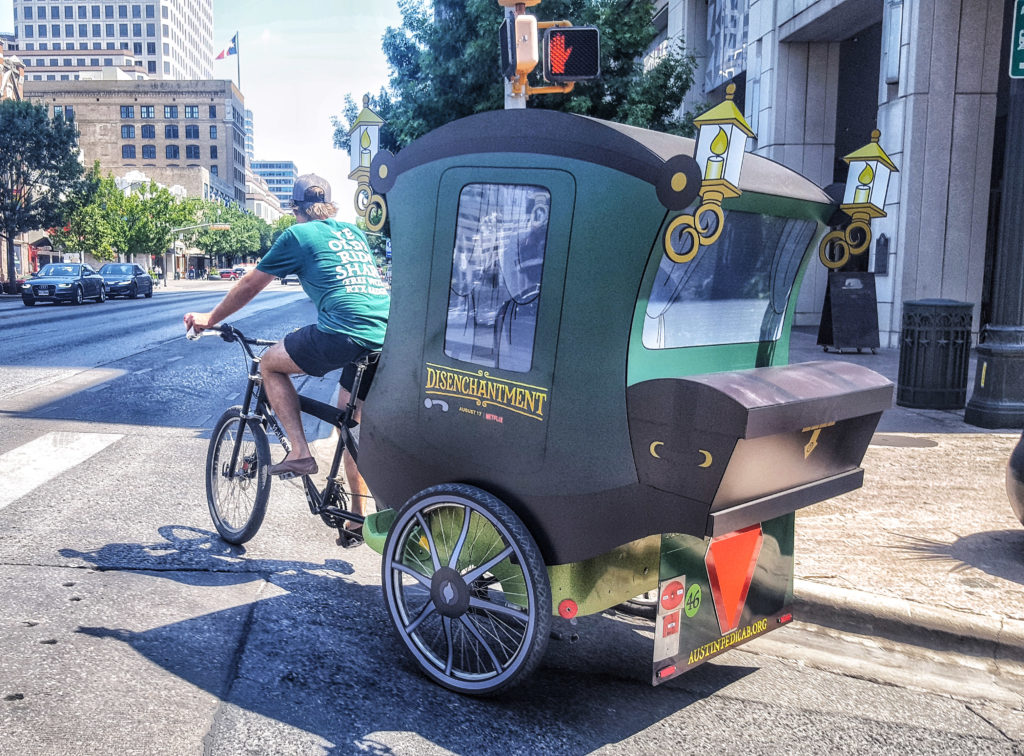 RTX is a 3-day event, and these stylish rides were available (and free!) to convention-goers for 15 hours per day, from 9 AM til midnight. We divvied each day into four 4-hour shifts, and 5 pedicabs were out per shift. It was a pretty awesome undertaking, and we had fun.
To sum up what Netflix's "Disenchantment" chose for their campaign, they:
provided comfortable "Disenchantment" branded t-shirts to our pedicab drivers;
had ten customized fixtures built;
had two wheel covers installed per pedicab;
and paid for 450 hours worth of free rides.
This post is a part of our "Conventions" portfolio.
This post is also a part of our "TV shows, music, & movies" portfolio.