Last SXSW 2016 Whataburger teamed up with Movemint Bike Cab to create three French fry pedicabs.  Whataburger's goal was to have nightlife patrons consider Whataburger as a late night food option.  To make that happen, we created three pedicabs with the help of renowned Austin artist Dale Whistler.
Dale created the French fry toppers that attached to the pedicabs under their seats.  Constructed from foam, reinforcing materials and painted to be most visible at night, the French fries made the concept work.
Whataburger selected the following from our menu of advertising options:
3 fully wrapped pedicabs
3 custom-built French fry toppers
3 pedicab drivers hired by the hour to give free rides
Branding the drivers with t-shirts
Drivers handed out free branded swag items like USB memory sticks wrist bands.
We received a lot of earned media in the local and nationwide press as a result of all these efforts:
Whataburger puts French fry pedicabs in Austin for SXSW
San Antonio to invade Austin for SXSW with Whataburger in tow
Whataburger Brings Late-Night Party to SXSW
Below are a few videos and photos from the campaign: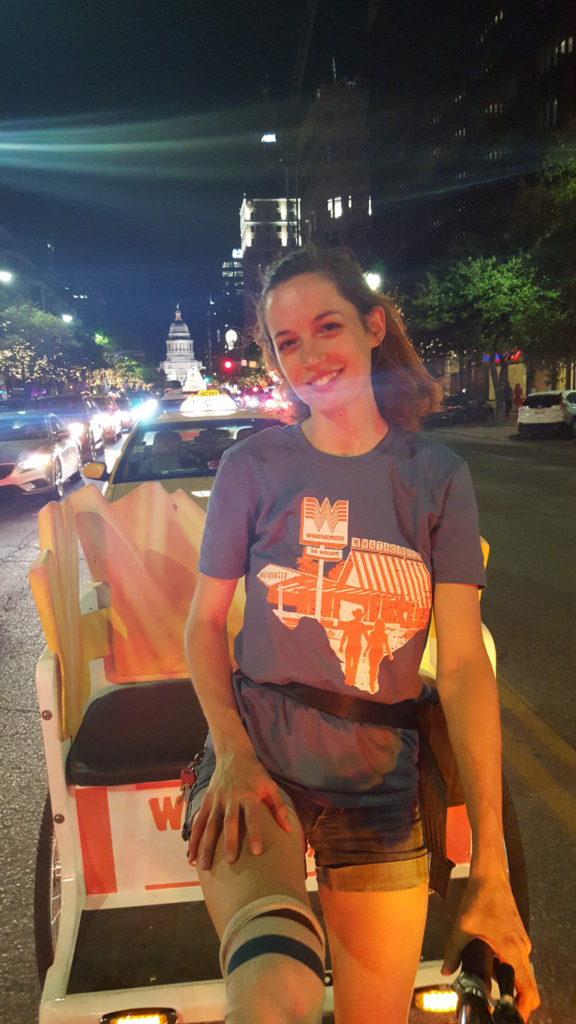 More photos of this campaign can be seen on our Flickr page:
SXSW 2016 – Whataburger campaign
This post is a part of our "Food & restaurants" portfolio.