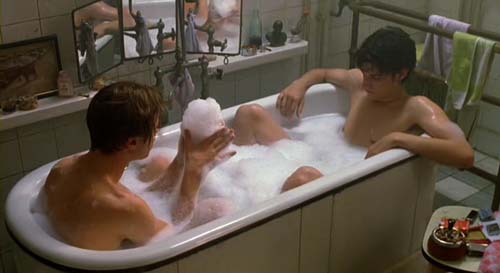 After following some of the comments that have appeared on this blog and reading the postings at the yahoo pedicab group I have come to the following conclusions:
Pedicabs operate in a very small arena, not so much as a pond, but a bathtub.
If our regulating authorities want to shut us down, they can do so with little additional provocation.
Any one bad or uneducated operator/driver can destroy the livelihoods of every other owner/operator in their city.
In short, DO NOT SHIT IN THE BATH TUB.
The following words were taken fro the Yahoo pedicab group.  I am coping these words here out of respect for these people.  I forget sometimes how well spoken pedicab people are.  These folks bring up points far more eloquently and with a greater depth of knowledge than I can.
 Re[2]: [pedicab] Fw: Vote please
 Fri Dec 12, 2008 11:43 am
 The biggest threat to the human powered transportation industry is the people
doing it.
 It just appeals to the anarchist and the sociopathic greed.
 Here in phoenix, we've gotten regulated and for a while that was a very good thing, it got rid of 90% of the problem children.
Unfortunately there seems to be a roster of "types" of riders.  In any given group, there has to be a certain percentage of those who just have to deliberately go where they are expressed banned from going in the name of getting the next ride.
We've been asked to stay off from the front of the USAirways, especially during ingress and egress.  We've been asked by the police in response to a request from the arena.  And what do we get?  Yellowbikes saying the rules don't apply to them, they can do as they please, if the cops want something different, (while controlling traffic at maximum density flow) the cops can tell em personally, each time.
Its just easier for the powers that be to make one rule that applies to all pedicabs than it is to treat us on a case by case basis.  And when we don't follow those requests, we lose places to run.
It's the humans who will kill their own food supply.
I guess everyone who runs is equally responsible for us losing places to run, because its every one out there who allows the scofflaws to run in the face of requested procedure.
Oh well, another day. any body got any tactics that work on the idiots who would kill our future in exchange for the next five dollar ride?
 Billy O
 I Agree with Billy O
Mon Dec 15, 2008 1:04 am
I agree with O as far as the biggest problem facing the pedicab industry (Are we, indeed, an industry?) is the people who choose to break with the rules and common sense.
In Orlando, we had/have several groups riding the same real estate in the downtown bar area.  Most of the riders are respectful of each other and of the clients.  A small number of riders do things like ride the wrong way down a street, ride the sidewalk, jump in front of a clearly established line etc.   These riders are often, but not always, not long for this business.  Some are figuring that they will just do this until Donald Trump calls them up and offers them the high paying gig that they think they deserve. Some of them believe that they aren't noticed by the Police or property management (The O-Rena where the Magic play) and won't get caught.  Some are just straight up jag-offs by nature.
Of course when one low-eared idiot does something that is noticed by someone in authority, everyone other rider is guilty in the eyes of the person observing. Many of the riders that rode with other companies were friends with other riders across company lines, as it should be.  Some riders, the violators, are disliked by all, including even those in their own company.  I feel that things should be controlled/enforced by the pedicab company management.  If a rider knows that he or she will be punished in some form for doing things that give us all a bad name, they tend to do it less.
This ain't news, people.
This means that the management must or at least, should control their own employees.  This doesn't happen in all companies and the result is the city or other governing body feels that they must regulate or punish the industry as a whole in a given region. We should police ourselves, or someone else will.
I would say to managers and owners of pedicab companies that their individual rules should be stricter that what is legally required. Otherwise, violators are rewarded individually for their transgressions and the industry as a whole will suffer.  I think Howard G. and his managers have this right.  I think Billy O has this right.  I think many independents understand this.  I think some companies fail to keep their pimp hand strong and all must pay the price because of their inability to control their own riders.
If a company hires junkie kids with no respect for anything the results are predictable. One should hire calm people who can do the work with a sense of community about them. Many is the time that as an independent rider I stopped to help out a rider that rode for another company.  Many is the time I jumped up someone's ass for doing things that bring the Eye of the city upon us.  I'm not looking for a medal or anything, I'm just saying that no man is an island out there. If you ride a
pedicab, irrespective of bike color, design, or company affiliation, you are part of something bigger than yourself.
You are seen as a Pedicabber by the world, and your actions, both good or bad are attached to the industry.
Pedicab company owners must hire people that can do more that pedal heavy loads for several hours at a time.  That is certainly one requirement, but there are other characteristics that are also very important for the Industry as a whole.
The Rev. Dr. Funnyshoe
____________________
Re: [pedicab] I Agree with Billy O
Mon Dec 15, 2008 1:35 am
Pedicab company owners don't "hire" people. They vet people to rent their pedicabs, Dr. Funnyshoe.
The vetting process is the one that makes or breaks the environment in the streets.
You'd think that the risk involved in renting a pedicab to a scofflaw would dissuade an owner.  That's not always the case.
The higher the risk versus the reward, the more likely the owner will forego renting to a scofflaw.
If legislation requires riders possess a U.S. auto driver's license, then the pool is restricted accordingly.
If it doesn't?
Best,
Gregg Z
Revolution Rickshaws
NYC
P.S. For the month of December, Cycles Maximus pedicabs are available
for delivery to NYC on 1 March 2009 for $4995.
______________________
Re: I Agree with Billy O
 Mon Dec 15, 2008 9:55 am
As I've seen multiple dictionary resources for 'hire,' with some flexibility, the term- essentially- works, in this context.
As for 'vet,' that is, actually, the start of the process- before signing/making a professional contract agreement between owner and contractor/rider/operator.
So, again, with some flexibility, maybe it starts with 'vet/interview,' then goes on to 'hire/contract.'
Is this the end, here?
 Is this all?
 One may imagine that there is yet one or more elements involved, here.
 What else?
 Training, for one.
 And…
 Maintaining, for another.
 So, that makes for about 4 elements, so far, here:
+ Interview/Vet
+ Hire/Contract
+ Inform/Train
+ Guide/Maintain
 As for whatever 'makes or breaks' it all, one may imagine that each and every one of these elements makes or breaks it all.
 And, for each element, it is a dynamic relationship involving owner and operator, trainer and operator, one operator and all other operators, operator and police-, community-, and venue-related formal/legal issues/policies/procedures, and- where the rubber meets the road- operator and customer.
 As we see, it's quite a complex system- with a multitude of simultaneously interrelated players/parties/stakeholders and their respective roles/responsibilities/missions.
We've all got a role to play, in each and every aspect of this system.  And, we've got to play it right/show good form- being physically, mentally, and emotionally mature and professional as we provide this service; all, positively proactive- instead of negatively reactive.
Like Billy O says, as it is now on its way to being a universal pedicab axiom…
In essence:
'*Each* one of us is responsible for *every* one of us- for *all* of us.'
Kind of like:
'*All* for *one* and *one* for *all*.'
Maybe, over time, more and more people are coming around to the point someone once made:
'We're all in this together.'
The response:
'No, we're not,'
Is fading away and we're all understanding and appreciating each other and everything and we're all the better for it.
 Of course, there's a lot more to all this…
 However, for now, I will stop working the pedals… and coast.
-pyramid1phi9
____________________
Re: [pedicab] I [[*dont*]]Agree with Billy O
Mon Dec 15, 2008 8:12 pm
Here's the deal, as I see it. It's a double edge sword. And I'll say it out loud because most of you don't have the jewels to do so.
As an owner you want to have the best riders. Simple enough. But what is a good rider? How does this sound…. A good rider is one that is sober, responsible, polite, hard working, safe, follows the rules/ law and the list goes on.
What happens to a "good" rider after some time? Well his day job pays the bills. His other qualities tells him/ her that you are not necessary. You being the owner. That rider eventually goes Indie.
(I'm keeping this simple and short cuz my fingers hurt typing on my phone
So how do you keep your good riders? You sacrifice. You find riders that fit a certain, very specific set of qualifications.
Hard working? Yes.
Shows up every shift? Yes.
Etc…. Sober?  Eh… Well as long as it's not real obvious.
Follows rules? Well just the good ones and as long as if they are being broken to make us (the rider and owner) money.
Where do you find these riders? On the street, AA meetings, parole/ probation offices, etc. Bottom line is we all say we want good riders as defined above. However what you really want is someone that is desperate, motivated by outside factors (P.O., being homeless, etc), broke (can't go buy their own cab), which in incidentally, is THE major factor in why trike owners hate trailers, think about that one???
So what do you do when you have a crew full of desperate, hard working, homeless, addicts, etc? You point the finger at everyone else of course. Duh!
I've been witness to and a victim of just as many transgressions perpetrated(sp?) by those that claim to be the model of good pedicab companies as I have by those they point the finger at.  Sure there's a bad apple in every bunch. Sometimes I'm the rotten one…. But can we all please stop blaming everyone else and pointing fingers already?
Billy, you were the first…ish in Phoenix/ Tempe.  You created everything.  You are the reason it is the way it is.  You want credit for being the first you got it.  But take the blame too.  I know when your elite riders left and got on trailers you hated them and trailers too.  But it was your fault.  Stop blaming everyone else for the conditions we have now.
I've had your rider punch my rider for no reason (except being drunk) and you put him back out there. I've watched your riders block the exits at BOB only to have us banned 3 days later. Your riders, working all alone, got you kicked out of  Cricket. I've seen your guys overcharge, spit on cars that honk at them. The list could go on I've got 8 years of stories.
So please let's focus on how we can all clean our yards up and sto p pointing fingers at you neighbor for having a trailer parked in his front yard when you have a truck parked in yours!!
Gary Geske
PedalTek LLC
www.pedaltek.com